SCF: Game 1 Lines

By mvuk, Pittsburgh Sports Insider
Pens Line Combinations
Dupuis - Crosby - Hossa
Malone - Malkin - Sykora
Ruutu - Staal - Kennedy
Roberts - Talbot - Laraque
Defense Parings
Orpik - Gonchar
Gill - Scuderi
Letang - Whitney
Wings Line Combinations
Holmstrom - Zetterberg - Datsyuk
Franzen - Hudler - Cleary
Samuelsson - Draper - Drake
Maltby - Helm - McCarty
Defense Pairings
Lidstrom - Rafalski
Stuart - Kronwall
Lebda - Chelios
Article:
http://pod08.prospero.com/n/blogs/blog.aspx?nav=main&webtag=KDKA_Sports&entry=8
Watch Games 1&2 Inside Mellon Arena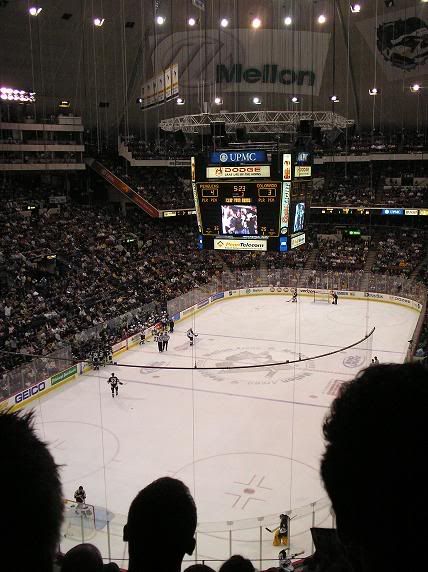 From KDKA.com
During the playoffs, fans without tickets have been watching the Penguins games at Mellon Arena on a big screen outdoors.
But now, the team is offering a unique way for fans to catch all the of the action of Games 1 and 2.
The Pens will face off against the Detroit Red Wings beginning this Saturday at Joe Louis Arena in Detroit.
Game 2 will be on Memorial Day, May 26, also in Detroit.
-
The series then moves to Pittsburgh for Games 3 and 4 at Mellon Arena on Wednesday, May 28 and Saturday, May 31.
All Stanley Cup Finals games will start at 8 p.m.
Meanwhile, the Penguins are opening Mellon Arena for fans to watch Game 1 and 2 on the Jumbotron.