Eastern Conference Champs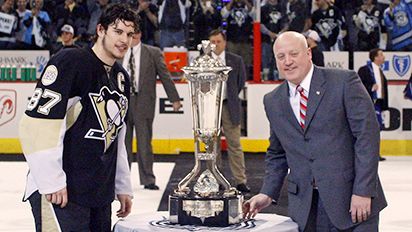 Official Pens Merchandise

NHL.com-RECAP


By Brian Compton, NHL.com Staff Writer
For the first time in 16 years, the Pittsburgh Penguins have reached the Stanley Cup Final.
For Ryan Malone, it's been a long time coming.
The Pittsburgh native scored twice, Marian Hossa had a goal and three assists and Marc-Andre Fleury stopped all 21 shots he faced as the Pens advanced to the final round for the first time since 1992 with an emphatic 6-0 win over the Philadelphia Flyers at Mellon Arena on Sunday.
The victory was Pittsburgh's 16th straight in the Steel City. The Penguins have not lost at Mellon Arena since Feb. 24, when they dropped a shootout decision to the San Jose Sharks.
The Pens needed little time to break the scoreless tie, as Malone notched his first goal of the game at 2:30 of the opening period. Just 12 seconds after Mike Knuble was whistled for hooking, Malone redirected a feed from Sidney Crosby past Flyers goalie Martin Biron as the Pens took a 1-0 lead.
Evgeni Malkin put Pittsburgh up by a pair just over seven minutes later with his first goal since Game 1 of this series. After Malone was able to seize control of the pick from Flyers defenseman Derian Hatcher, he fed Malkin for the easy tap-in.
"This is what you play hockey for," Malone said. "I think everybody dreamt about it as a hockey player. To get a chance now to battle for the best prize there is, it's going to be fun. I think we're all excited to get going."
Hossa extended Pittsburgh's lead with his ninth goal of the playoffs 8:24 into the second period. With the teams at even strength, Hossa took a pass from the corner by Crosby and one-timed a laser past Biron to make it 3-0.
Hard to believe that it was only three months ago when the soon-to-be free agent was skating for a struggling Atlanta squad.
"Sometimes, it takes time to adjust, and it took me a little bit," Hossa said. "Right now, I feel like I'm at home. I'm just happy to be here."
Malone tallied his second goal of the game less than four minutes later via the power play. Fourteen seconds after Jeff Carter went off for tripping, Malone parked himself in front of the net and redirected Sergei Gonchar's wrist shot from the point past Biron as the Pens went up, 4-0. Jordan Staal sent the Flyers reeling towards the dressing room when he made it a five-goal game with just under a minute to play in the second.
"We got a great start and we didn't let our foot off the gas," said Crosby, who had two assists and was a plus-2. "We made sure that we kept coming. Everyone contributed and everyone bought into what we had to do. It's a great game for us."
The Penguins held the Flyers to eight shots in the third period and took a 6-0 lead at 4:03, when Pascal Dupuis – who arrived in the same deal as Hossa – redirected the latter's shot past Biron for his second goal of the playoffs.
Philadelphia finished 0-for-4 on the power play and experienced a tremendous amount of difficulty generating quality chances against Fleury, who improved to 12-2 this postseason.
"I don't think you can put too much weight into one game," Flyers coach John Stevens said. "I think we're going to look at our season as a whole, have a really good evaluation of the things we did well and the areas we need to get better. And this one game to me is going to have very little to do with that overall evaluation."
Mike Richards – who had seven goals and seven assists this postseason and is one of the team's leaders despite his young age (23), was proud of the way his team performed in the Stanley Cup Playoffs. Philadelphia finished with the worst record in the NHL a season ago.
"Through all the adversity and the highs and lows, it's great to see that we can get through some of the adversity we had thrown our way," Richards said. "I had one of the funnest years I had, just being around the guys. I wouldn't trade it. I'm extremely happy with the team."
Just as Malone is happy with his. Sixteen years after watching his favorite team win its second straight Stanley Cup, Malone is now playing a huge role in the chase for that elusive third championship.
Malone remembers playing for the 2003-04 Penguins, who finished in the Atlantic Division basement with a record of 23-47-12. Dick Tarnstrom was the team's leading scorer with 52 points. How times have changed.
"Four years ago where we were … the fans have been patient," Malone said. "We realize we have a tough test in front of us still. Our goal wasn't to get here – our goal was to get the whole thing done. So far, so good."
Article: http://www.nhl.com/nhl/app?service=page&page=Recap&gameNumber=315&season=20072008&gameType=3
A Legend is Born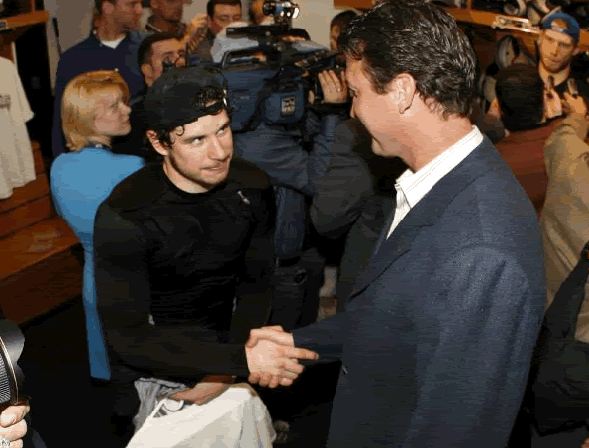 Good, Bad, and UGLY
By tluke53, A Pens Guru
Good
MAF - He was tremendous in this game. Those quick legs made key saves that helped to demoralize the Flyers and take them off their game.
Staal - Another strong game by Jordan Staal. I believe that he has 6 goals in the playoffs. Next year could be a breakout season for him.
Malone - How much difference does he make in front of the net? Even when he does not receive credit for a goal or an assist his big body obstructing the goalie is often responsible for goals. His role is going to be impossible to replace next year from within.
Hossa - Player of the game. He was everywhere.
Crosby/Malkin - Same as usual great and probably not getting enough credit.
Bad
NOTHING
Ugly
NOTHING
I CAN'T BELIEVE IT. WE ARE NOW PLAYING FOR THE CUP!
Game 5 HIGHLIGHTS